Mourning the passing of Sir Murray Halberg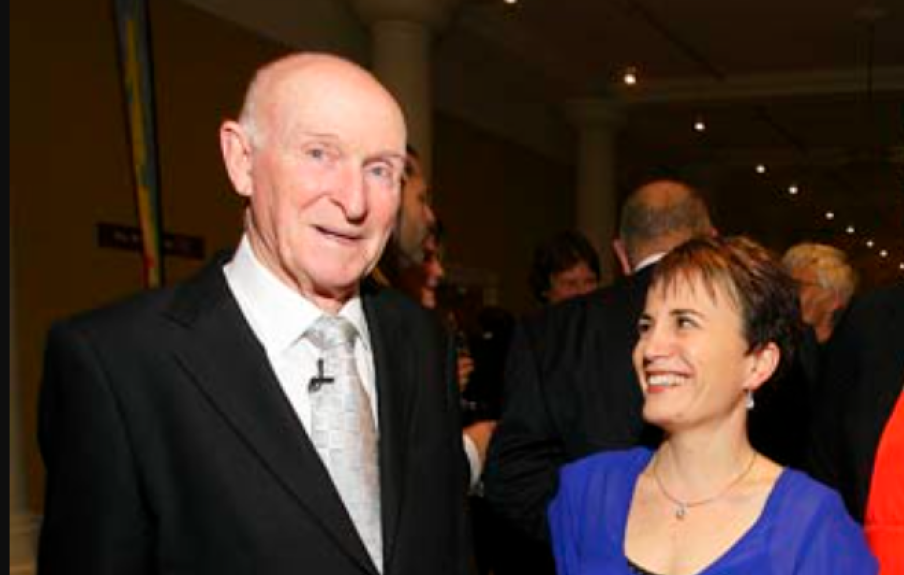 Our Chief Executive, Paula Tesoriero, MNZM, is mourning the passing of Sir Murray Halberg.
A New Zealand Sign Language translation of Paula's statement is available below.
"I am joining many around Aotearoa to honour and mourn the loss of a champion in every meaning of the word.
This photo says it all really. Me looking up to my hero Sir Murray Halberg. Throughout my life, Sir Murray epitomised for me what it means to champion the rights of disabled people. He was a pioneer of disability rights in New Zealand. He stood alongside our community as a true ally. Sir Murray of course, being so humble would never accept these accolades.
Sport can play an important role in breaking down barriers for disabled people. Sir Murray's vision that there can be no exception to disabled young people having the opportunity to participate in sport touched me from a very early age.
I could not run or play many sports as a child, but I could ride a bike (with some adaptations), which gave me a sense of inclusion and belonging, something I did not always feel in other settings. This laid the foundation for my journey to the Paralympic Games shaping my identity as a disabled person in the process. It then fundamentally changed my career trajectory.
I knew through this journey that a key focus of my life would be on ensuring other disabled young people had the same opportunities as everyone else to participate in sport. So there was no hesitation from me when Sir Murray invited me to be a trustee of the Halberg Foundation. And that was the start of my journey with Sir Murray, a man I deeply respected and cherished.
Since then, I've been privileged to serve on the Board of the Halberg Foundation, present multiple times at the Halberg Awards, am the Ambassador for the Halberg Games, helped develop the Disabled Person of the Year Category at the Halberg Awards, presented many speeches on the work of the Foundation and am now honoured to be a life Trustee of the Halberg Foundation.
Sir Murray was ahead of his time. He was promoting inclusion in sport ahead of the right to participate in sport being enshrined in the United Nations Convention on the Rights of Persons with Disabilities. He knew that additional funding, innovation and time were needed to provide sporting opportunities to disabled young people. And he spent much of his life devoted to doing just this.
We all know there are universal benefits of sport for everyone, but there are additional ones in my view for disabled young people. Sport changes perceptions about disability, helps with social cohesion in classrooms, and when accessible it means disabled young people are not on the sidelines. It creates inclusion through being part of a team.
Over the years I have heard and witnessed first hand so many wonderful stories about Sir Murray's work. His dedication meant things like disabled siblings riding a bike to school together because the Foundation funded an adaption to a bike; a disabled child could go to their local sports club because the Foundation helped the club be more accessible, or get access to a chair to play wheelchair rugby.
I have seen the expression on the faces of disabled children and their parents when they have a go at a sport they never thought possible. Sir Murray's work brought the vision of the social model of disability to life before we were even really embracing it.
It was an utter privilege to know Sir Murray, to be inspired to take a path in life I may never have taken without him and to play a role in the organisation he founded.
Sir Murray's race has ended. But his legacy will continue. This week we lost a champion, disability rights advocate, friend to the sports and disability communities and I lost my hero. Most importantly his wife Lady Phyllis and their daughters lost a much loved husband and father, and my thoughts and prayers go out to them.
Rest in peace Sir Murray. Kua hinga, te tōtara o Te Waonui a Tāne: the tōtara in the great forest of Tāne has fallen."